Published on 26th October 2019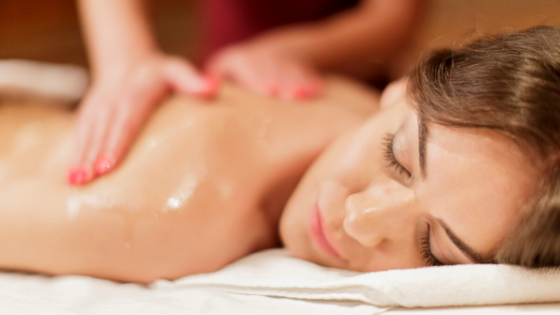 Roll up, Roll up all massage addicts out there. You know who you are. We want to wow you with the ultimate luxurious, one-stop massage oil that will put all other contenders in the shade. This is a CBD topical oil like no other that will turbocharge any massage you give (or receive), leaving you relaxed, soothed and supple. What's not to love?
CBD And Why Use It Topically
CBD, otherwise known as cannabidiol, is a type of naturally occurring compound in cannabis sativa called a cannabinoid. CBD is known to activate various molecular pathways in the body related to pain, inflammation, and mood.
CBD topicals have been getting traction in recent years, with a host of CBD balms, lotions and potions on offer. While most of us are more familiar with CBD oils or tinctures that are taken under the tongue, CBD topicals are applied to the skin often for localised symptoms such as joint pain or irritable skin conditions.
Right now, scientists around the world are exploring how CBD can be harnessed to treat a host of conditions. While we await the results of these much anticipated studies, CBD continues to be available as a wellness product or dietary supplement.
CBD Massage Oil
And if there were ever a vital component of wellness, receiving a massage would surely be at the top of the list. Massage is a manual therapy using finger pressure and stroking movements bringing relief to tired muscles, aching joints, and frazzled nerves. For maximum benefits, it's advisable to visit a trained massage therapist, but if a partner, friend or family member has 'good hands,' there's still enjoyment to be had.
Most massage therapists use oil as their chosen medium to work away knots and tension in the body. Aromatherapists use essential oils such as lavender and rosemary to relax or invigorate as needs be, but only masseuses 'in the know' add CBD to their massage oil.
It's a no brainer really. CBD's anti-inflammatory action makes it the perfect ingredient for treating clients (or yourself) with muscle pain or soreness. That's why we add organic, full spectrum CBD+CBDA oil as our star ingredient.
Spirit of Hemp Topical Oil - Other Star Players
While CBD is the hot health product of the moment, Spirit of Hemp has decided to include a host of other natural ingredients such as aromatic essential oils to take our topical oil to the max.


Copaiba Oil
This may be the first time you've heard of copaiba oil, but it won't be the last. Coming from the Copaiba tree found in South and Central America, it's long been hailed for its pain relieving and anti-inflammatory benefits.
Copaiba also shares a common link with cannabis sativa. Both contain the terpene beta caryophyllene, only copaiba contains the most beta caryophyllene in the whole plant kingdom.
Interestingly, beta caryophyllene is known to bind with CB2 receptors in the endocannabinoid system which is thought to have anti-inflammatory and mood boosting effects.


Other Key Ingredients
Frankincense essential oil for its anti-anxiety effects, plus peppermint, and oregano oils to ease sore muscles also feature in our Spirit of Hemp Topical Oil. As well as ultra luxurious natural oils such as coconut, jojoba and moringa to moisturize dry skin.


Three Massage Tips For Any Amateurs Out There
While we're not suggesting you confine yourself to just using our CBD topical oil as a massage oil (it's perfect as a treatment face oil or when you're straight out of the shower), we thought we'd end this blog post with some go-to tips for any budding masseurs out there.


If you're not sure - stay gentle
Anyone who's ever received a massage from a sports or remedial therapist will know that some massages have you jumping from the couch in discomfort. However, these guys have had years of training and know just how much deep pressure can be beneficial. If you're not too sure, just use gentle upwards strokes, moving in the direction of the heart. And always ask the recipient if they're OK with the pressure.


Never Massage Directly On Bone
While it's perfectly OK to gently massage our CBD topical oil into joints, massage should never be pressing directly onto bones. That means massaging either side of the vertebrae and around shoulder blades. Also, avoid putting pressure on delicate areas like behind the knees or the kidneys.


Do A Patch Test
Just because an oil contains natural ingredients, doesn't mean it can't cause irritation in some people. So before slathering yourself or another in our fab CBD massage oil, always do a patch test first to ensure you/they're not one of the sensitive ones.
So there you have it. Have we convinced you to test drive our one-stop, multitasking CBD massage oil? We'd love to hear how you get on. So please leave a review or spread the love with friends and family.

By Mary Biles
Mary Biles is an ex-TV producer, writer and educator with a background in holistic health. In the past, she's written for the Huffington Post, CNN, and the BBC. While living in Southern Spain, her path crossed with the medicinal properties of the cannabis plant, and for the last three years she's been writing about cannabinoids, in particular CBD, European medical cannabis research, and the endocannabinoid system. Now based in the UK, Mary is passionate about putting medical cannabis science into digestible terms; where possible going straight to source and interviewing the scientists behind the breakthroughs. Her website is here.