Published on 14th October 2018
A Woman on a Mission: Meet Wendy, Certified Clinical Thermographer
It's estimated that more than 1.68 million women worldwide are diagnosed with breast cancer every year and it's likely that almost everyone reading this has been directly affected by the disease at some point in their lives.
Cancer itself is a scary concept – but why do so many of the supposedly positive and preventive steps we are encouraged to take have to be scary?
I arrive at Vitality Health and Wellbeing, Crowborough to meet Wendy - a woman on a mission.
Wendy is offering a 20% discount to anyone booking in with her this month - just mention Spirit of Hemp! You can book your appointment for any date, but the booking must be placed before the end of October.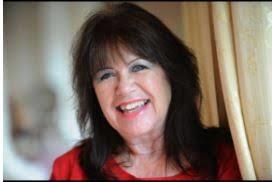 Meet Wendy
Wendy Calver, who has been a registered nurse for over 35 years and worked in both hospital and community roles, greets us as we arrive at her clinic in Crowborough. Wendy's warm and welcoming approach immediately puts you at ease and I follow her to her therapy room, where the sense of calm and relaxation is continued. The thermography machine itself is not something I immediately notice as it's small and unobtrusive, far from the imposing and clinical environment I was expecting!
Wendy explains that she started learning more about thermal body scanning when two of her close friends recommended the process. She went on to then have her own full body scan before setting up her own practice.
What do I have to do?
The thermography process begins with the client putting on a light robe and cooling the body down. The infrared of the machine scans the body and picks up on signals, both hot and cold, so it's important that the body is at the correct temperature before the scan is taken.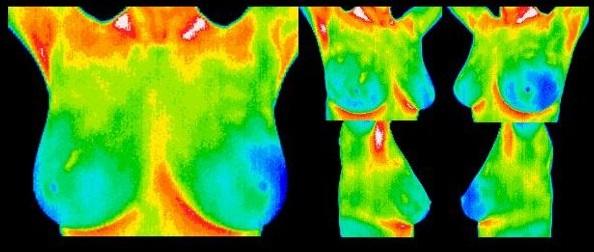 Image: A thermal scan of normal, healthy breasts
As I cool down, Wendy shows me some of the amazing thermal images that have been taken. One that really stands out, is an image of a lady's silicone breast implants and the way in which the infrared picks up on the damage done here by the chemicals – often the leak of the implants can cause damage around the body that can apparently lead to conditions like fibromyalgia and cancer.
Image: A thermal scan of regular breasts with silicone implants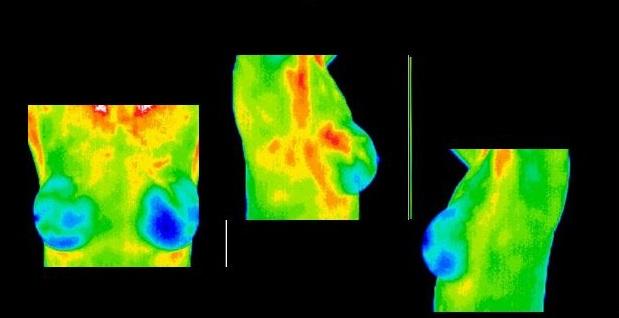 Image: A thermal scan of implant leak (right breast) in a patient with silicone implants
How does it work?
Thermography is simple, painless and radiation free. It is a test of the function and physiology of the body, so it helps in the early detection and monitoring of abnormal physiology. The digital infrared camera picks up infrared rays from the body, converts the infrared energy into an image that can be displayed on a computer to be seen, then sent to a medical doctor specially trained in thermology to be interpreted and understood (like radiologists read the x-ray pictures that radiographers have taken). What the thermal image reflects is skin blood flow. Thermography does not see any organs, any depth into the body or any conducted heat from deeper structures or underlying inflammation. Any thermal patterns seen reflect the body's surface temperature as a neural response to whatever is going on beneath, which could be inflammation, lymph congestion or angiogenesis. Thermography works because the skin, as an organ, is totally under the control of the sympathetic nerve function and thermography provides a snapshot of the body's reponse on the skin surface to any disease or injury.
Thermography, to many, often sounds like a new technology but, in fact, it was first used in the 1950's as a military tool to flush out adversaries at night and lead missiles to their targets
It was released into the public domain in the 1960's and the physicians were excited about thermography's potential as a life-saver in the medical sphere.
But clinical trials were carried out using ex-military and industrial equipment, so due to a lot of limitations, thermography fell out of favour for many years, but the appeal was still there for a simple, painless and, perhaps most importantly, radiation free method of detection and prevention. So thermography scanning was re-introduced and became more sophisticated together with greater understanding of physiology and more advanced computer technology.
The Royal Family has long used equine thermal detection on their racehorses and the benefits of it is in the medical world have been long noted. So thermography has Royal Approval!
Wendy has worked as a Practice Nurse for many years , but has used alternative medicine as well for many years and describes herself as having had a "foot in each camp" in terms of the practices – it's clear to see the frustration in such advanced and preventative technology not being available to everyone.
Without the use of radiation, the infrared camera is able to detect possible early signs of mutations – this is, simply put, because cancer cells have their own separate blood supply (angiogenesis) and the camera picks this up as heat. Whereas, mammography uses radiation to detect a tumour after it has grown big enough to be seen by the mammography machine (around 8 years). Although mammography remains the gold standard of investigation in the UK, thermographic evaluation gives you more choice in looking after your health.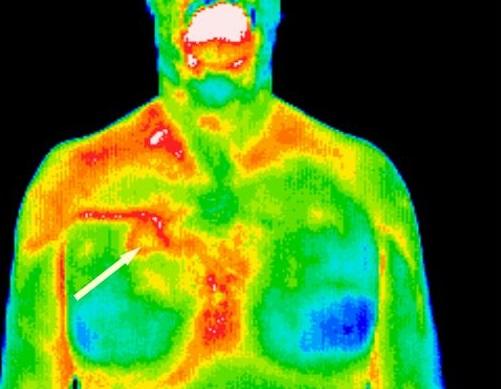 Image: A male with breast cancer
Somewhat amazingly, the thermography can then pick up on even the smallest change in your body and notify the assessing doctors of a suspicious area. Results like this suggest that the popularity of thermal scanning is on the rise. On that note, Switzerland have now banned the use of mammography.
How can I prevent cancer?
The cooling process of the body takes about fifteen minutes and it's the perfect opportunity to ask Wendy the question I'm sure she's heard a million times… what can we do to prevent cancer? In addition to taking my Spirit of Hemp oil every day, I'm always looking for ways to try and help maintain good health, and Wendy is the perfect person to ask.
Wendy explains that whilst we can't change our genetics, which is a leading factor in the cause of breast cancer, women need to look at their lifestyle – reducing their toxic load by by improving their diet; cutting out toxic drinks, processed and microwaved foods, get into some form of exercise, drink more good water, cut out smoking and maybe do some form of cleanse to the body. Many older women have a mouth full of mercury fillings, which also increases the toxic load in the body. Not everyone can afford to have these removed, but foods like chorella and cilantro and eating a clean organic alkaline diet will help. It is always a good idea to employ the services of a qualified nutritional therapist for help and advice.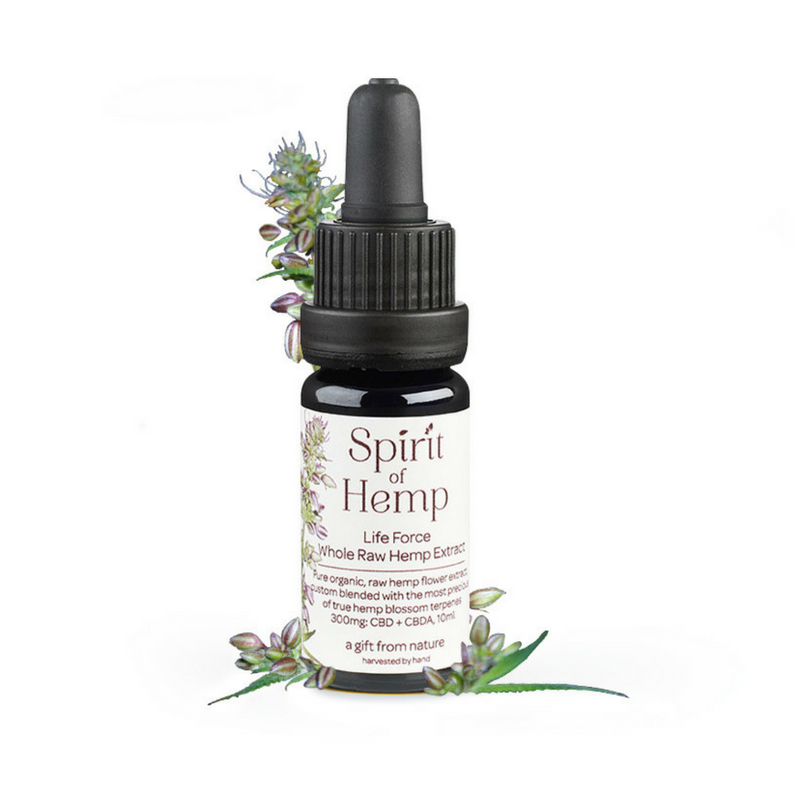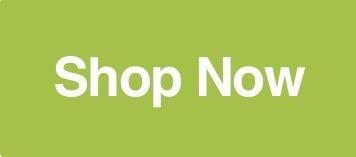 She tells me that many of our everyday deodorants have cancerous properties and it's worth moving away from deodorants containing aluminium and parabens, as so many cancerous breast tissue samples have been shown to contain this harmful chemicals.
Thermography can detect underarm lymphatic congestion, which is a pre-cursor to disease. This congestion can be caused by wearing underwired bras. To counteract this problem happening, lots of companies do non-underwired bras and these are easily found on the internet.
What does the scan feel like?
The scan itself is quick and completely unobtrusive – I simply stand and the machine takes my scan. Wendy describes it as "like taking a photograph." There is completely no contact which is the beauty of it and as I stand there daydreaming I can't help but wonder why this technology is not more widely used…
How do I get my results?
Wendy makes it clear that she does not deliver results there and then to patients and that it often takes two comparative breast scans to be able to directly compare the development of cells over time. This is done with a minimum of two appointments, three months apart. The scans are sent to a network of doctors who will carefully analyse and assess your images before providing Wendy with their professional verdict. It is at this point that you can choose to either contact your GP or an alternative healthcare source, should you need it.
Is it just for breast health?
No – and Wendy shows me an array of fascinating pictures she has of various other conditions detected. The treatment is far from limited to cancer as it also appears to detect illnesses such as Fibromyalgia, Chronic Fatigue Syndrome and even an oncoming stroke.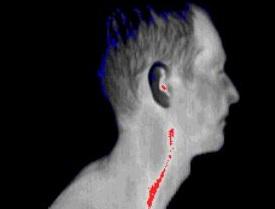 Image: Early signs of an oncoming stroke
Do I need any concerns to book?
I'm relieved to hear that thermography screening can be repeated as often as required with no risk and is well-suited for frequent breast screening (including post-surgery or during treatment.) Wendy informs me that breast cancer is on the rise particularly in young women. More and more women are opting out of vital breast health checks due to fears of the process itself (and who can blame them?) so it's peace of mind to know that a trip to Wendy's clinic is a gentle experience and she always welcomes people looking for preventive check-ups.
To book your appointment using the exclusive 20% off available all this month (just mention Spirit of Hemp), or find out more, call Wendy Calver on 07738495450